Teaching History 151: Continuity
Journal
By HA, published 20th June 2013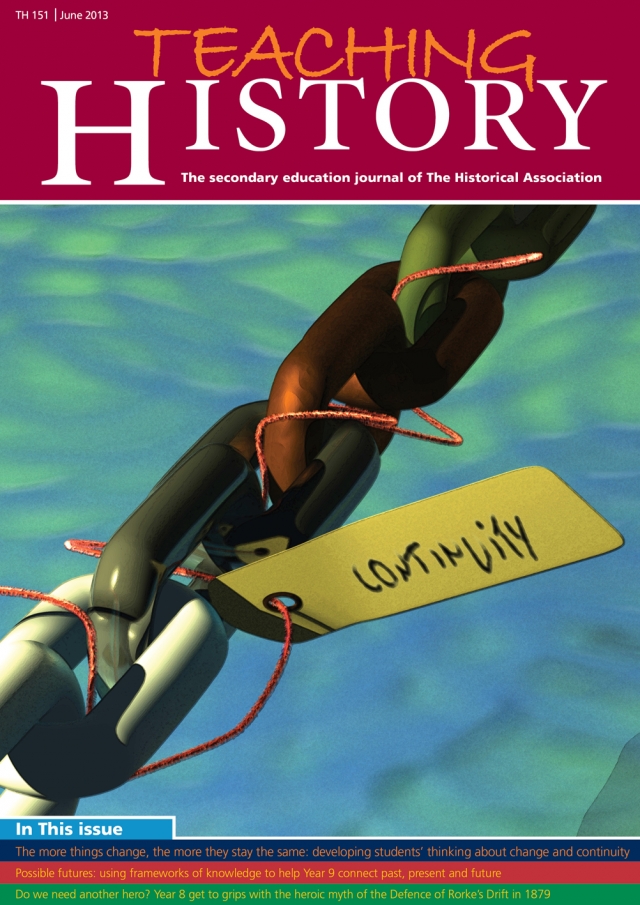 Continuity
02 Editorial
03 HA Secondary News
04 HA Update
08 Rachel Foster - The more things change, the more they stay the same:developing students' thinking about change and continuity
18 Polychronicon - Ted Vallance
20 Cunning Plan
21 Katie Hall and Christine Counsell - Silk purse from a sow's ear? Why knowledge matters and
why the draft History NC will not improve it
26 New, Novice or Nervous?
27 Mike Murray - Do we need another hero? Year 8 get to grips with the heroic myth of the Defence of Rorke's Drift in 1879
33 Dan Nuttall - Possible futures: using frameworks of knowledge to help Year 9 connect past, present and future
45 Helen Murray, Rachel Burney and Andrew Stacey-Chapman - Where's the other 'c'? Year 9 examine continuity in the treatment of mental health through time
55 Amy Hughes and Heather De Silva - One street, twenty children and the experience of a changing town: Year 7 explore the story of a London street
64 Move Me On
68 Mummy, mummy...