Webinar series: Developing confident readers and writers in the history classroom and beyond
HA webinar series for secondary teachers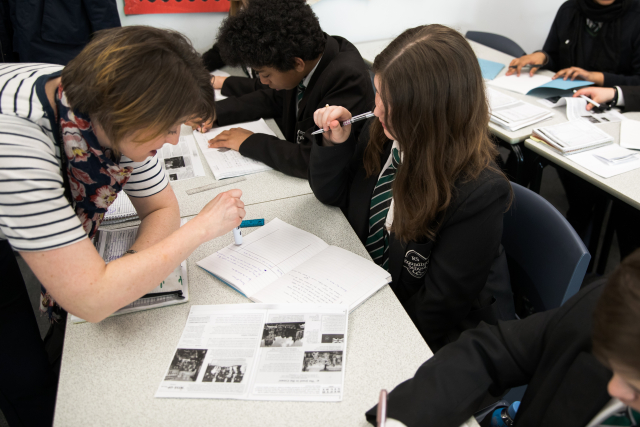 Students and teachers can perceive literacy, particularly the challenges of extended reading and writing, to be a barrier to enjoyment of and success in history. Repeated lockdowns over the past two years have, despite teachers' most creative and dedicated responses to remote learning, made it even harder to help children become confident readers and writers, and the impact of this is being felt in classrooms across the country.
In this series of webinars, Rachel Lewin will draw on her experience as Head of Department for both English and History to offer practical ways in which teachers can rebuild and develop students' confidence at word, sentence, paragraph and whole text levels. The sessions will bring together recent instructional approaches to writing, reading and explicit vocabulary teaching with rich practitioner discussion from the pages of Teaching History about the disciplinary literacy needed for powerful historical thinking. Far from being a barrier, extended reading offers the opportunity to immerse students of all prior abilities in story, sources and historical scholarship, while structured approaches to essay-writing can empower them to express conceptual understanding and analytical thinking with increasing sophistication and enthusiasm.
Programme
Step by step approaches to building students' confidence as readers, opening doors to fascinating stories and powerful historical thinking.
Modelling fluent historical writing through the use of scholarship and close reading in the classroom.
Exploring a range of approaches to explicit vocabulary teaching to help readers unlock complex ideas and writers express their understanding with precision.
From clause to sentence to paragraph to essay: how to scaffold writing fluency to enable sophisticated expression of historical thinking.
A passion for planning; how students can use mind maps, tables and scribbled notes to empower them to launch confidently into structured, cohesive essays with a clear line of argument.
Booking options and costs
Each individual webinar will be available to book online via Eventbrite. If you wish to make a block booking of multiple webinars, please complete the booking form to make a booking and request an invoice. Please note that we are only able to process manual bookings and invoices for block bookings, otherwise an Eventbrite booking must be made by following the links above.
| | | |
| --- | --- | --- |
| Number of webinars booked | HA Member ticket | Non-member ticket |
| 1 webinar | £36 | £60 |
| 5 webinars (full series) | £132 | £276 |
The webinar marked with an asterisk (*) above will be available free to HA members (booking required). Please note that all webinar prices are listed inclusive of VAT and that webinars booked as a one-off using Eventbrite are subject to booking fees.
All paid webinars in this series are eligible for the corporate member free recording offer. Please see the terms and conditions for information on how to redeem this.

All Historical Association webinars are subject to the HA CPD terms and conditions. For enquiries please contact events@history.org.uk.