Webinar series: History for all
Supporting all learners in history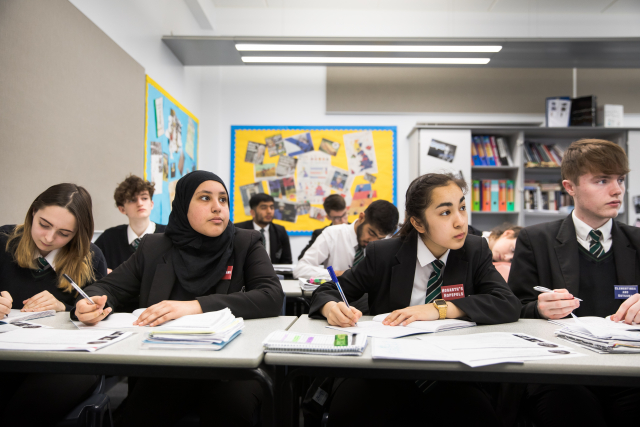 The 2011 Ofsted report History for All reminds us of the need to take account of the needs of all our learners in the history classroom and to ensure that no child is left behind. Providing an inclusive experience that carries all our learners with us takes a great deal of care and thought; from curriculum design to planning and delivery of sequences of lessons. This webinar series provides insights and practical strategies to ensure that all our learners are supported to succeed in the history classroom.
Programme
Planning for learning: taking account of pupil differences in history
Friday 26 February, 4–5pm
This session will offer an introduction to the series, led by Jason Todd and Richard Kerridge. It will consider the range of needs that learners have, including social and emotional ones, and how we might approach difference in the history classroom in inclusive ways. In this session we will look at the following questions:
What do I need to think about?
What contributes/inhibits pupil learning?
What can pupils struggle with in history?
Motivating history for all
Monday 15 March, 4.30–5.30pm
This session, led by Sally Burnham, will look at practical strategies to help motivate and support our lower attainers in the history classroom, particularly at GCSE. We will look at ways to help students develop secure knowledge, recall that knowledge and use the knowledge effectively so that all students can access the curriculum and achieve in the history classroom.
Memory: helping to build memory and recall
Friday 23 April, 4.00pm–5.30pm
This webinar will firstly explore the literature of recent years on memory with Laura Wilkins. In the second part of the webinar, Paige Richardson will look at different strategies to help children to remember. It will demonstrate how memory techniques can be built into Key Stage 3 as a regular part of learning, and how they can be developed further for success at GCSE. It will include a variety of activities designed to motivate and engage, resulting in confident learners.
The problem with having to write it all down!
Tuesday 11 May, 4–5pm
This webinar, led by Katharine Burn, will unpack the demands of writing in history – thinking about the particular challenges that lower attainers face when asked to generate different kinds of written account. It will identify what we can learn from research into more and less effective practices for supporting and developing students' ability (and willingness) to make and defend written claims about the past. It will encourage you to think and plan on different time-scales: how can I help these students now in ways that will make them less dependent on such support over time?
Putting pen to paper: encouraging all learners to feel the power of writing
Wednesday 12 May, 4–5pm
We are often told that low attainers find history hard because of 'all the writing' that our subject involves. Sometimes the temptation is to move away from writing to make things 'easier'. This session, led by Katie Hall, will look at diagnosing what makes historical writing difficult for low attainers and how to plan for allowing access to this vital part of history. It will contain some practical ideas for using writing to empower all learners by looking at techniques of structuring, language and deployment of ideas.
This webinar will explore some of the subject leadership decisions associated with supporting lower attainers across the department. It will incorporate some thinking on using data, curriculum leadership and structural decisions to support lower ability students in history. This session will be led by Martyn Bajkowski and Hugh Richards.
Whilst many teachers in mainstream schools now have useful links with Primary coordinators and have a working knowledge of how the curriculum is approached and implemented in Key Stages 1&2, few colleagues have contact with special schools and the expertise which our colleagues in special education can share with us around teaching history to pupils with special educational needs and/or low prior attainment. This webinar offers an opportunity to learn more about some of the curriculum planning and implementation ideas our colleagues in special schools use to ensure that history is not an exclusive subject but one that is truly for all. This session will be led by Gabrielle Reddington.
Booking options and costs
Each individual webinar will be available to book online via Eventbrite. If you wish to make a block booking of multiple webinars, please complete the booking form to make a booking and request an invoice. Please note that we are only able to process manual bookings and invoices for block bookings, otherwise an Eventbrite booking must be made by following the links above.
| | | |
| --- | --- | --- |
| Number of webinars booked | HA Member ticket | Non-member ticket |
| 1 webinar | £30 | £50 |
| 3 webinars | £80 | £140 |
| 7 webinars (full series) | £150 | £290 |
Please note that the webinar marked with an asterisk (*) above will be available free to HA members (booking required). Please note that all webinar prices are subject to VAT, as well as Eventbrite fees if booked online. All paid webinars in this series are eligible for the corporate member free recording offer. Please see the terms and conditions for information on how to redeem this.
All Historical Association webinars are subject to the HA CPD terms and conditions. For enquiries please contact events@history.org.uk.