Encouraging pupils to opt for history
Briefing Pack 6
By Richard Harris, published 2nd September 2009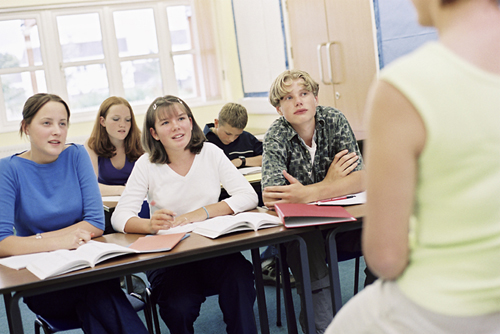 Students choosing their options in year 9 (or even year 8 now!) seem to have growing choice (depending on your option/pathway system). Newer courses like media studies, photography and travel must be very tempting to 13/14year olds. After they all seem very relevant to life in the 21st century. Where does this leave history? Why should students choose to study the past instead of these apparently more contemporary courses? This briefing pack aims to provide you with ideas to prove that history is definitely worth studying at Key Stage 4.
The present situation
If you believed everything written in the press about the decline in numbers of students taking history at GCSE, you would be likely to panic.
But, this negative storyline is very misleading. Why? Well actually the reverse is true. According to figures released by OFSTED in 2009 history was the most popular option at GCSE. More students took history than Media Studies, Geography, French, German, Art and Design, ICT and Business Studies to name but a few. But if we don't celebrate the popularity of our subject and tell students and parents this, they will be left thinking that history has been left on the shelf!
The history skill set
'I like history but it won't really help me get a job.' Ever heard these familiar words from your students? This is a dangerous mindset and one which we need to counter if we want to increase uptake at Key Stage 4. A history education provides students with the skills that are vital to get on in the 21st century. But just telling students that history will help them in their future careers isn't enough. We need to be giving them concrete examples to prove that history is a helpful option. This quote from the highly respected 'Which?' consumer guides wrote the following in their 'Which Subject, Which Career? Book 2002' sums up the power of studying history.
'historians are regarded as having had an education that trains their minds to assemble, organise and present facts and opinions and this is a very useful quality in many walks of life and careers...history is an excellent preparation for very many other jobs'
History develops a phenomenal range of intellectual and organisational skills. In a typical series of history lessons, students will be faced with a problem or enquiry; which they will then plan how to tackle. They will seek out sources of information and make judgements about the reliability and relevance of that information, sifting out the relevant from the irrelevant to reach a judgement. They will support that judgement and communicate it clearly, adapting it to specific audiences. All of this will be done while working to a defined timescale and in all likelihood in a collaborative approach. These are the flexible, soft skills which employers in the information sector are crying out for.
What's History Got To Do With Me - HA Online CPD Unit 2
Historical knowledge is a valuable commodity
Take a quick look at the popularity and profits generated by films and computer games such as Medal of Honour or Assassin's Creed. Although they need film makers and programmers, these film makers also need researchers and historians. A good historical
knowledge will also be an asset for working in the £3 billion pa Heritage Tourism sector, a direction many students will take when they leave school.
History helps students understand the world in which they live today
But studying history isn't just about getting a good job. History will also help students to understand the world in which they live today. One of the best ways to understand recent events is to look to the past and draw parallels from them. Why do terrorists today think violence is acceptable? What caused the credit crisis? Are MP's today really corrupt? By studying similar events in the past, drawing parallels and using analogies, students will become better informed.
Skills needed to live in the digital age
In the digital age we are being bombarded by information; in TV, films, from the internet, mobile phones. People are confronting a mass of information 24 hours a day. How do we help our students see the wood for the trees and decipher the genuine from the underhand? A good history education develops a healthy level of cynicism All that work we do analysing historical evidence will help students see beyond the surface and understand why evidence is really produced.
GCSE history is also a great place to provide a meaningful context for students to polish their ICT skills. By studying GCSE history students can analyse websites, test hypotheses using databases and develop their literacy skills by using simple word processing packages.
Good teaching
It is worth remembering that your best weapon to improve GCSE uptake is simple: good teaching at Key Stage 3. A one off amazing lesson just before options evening isn't enough. Students value lessons where they are engaged, where they are being made to think, where they are challenged and asked to make decisions. If your lessons are consistently interesting, rigorous and meaningful across 3 years (or 2) more students will value history and will be more likely to opt for history at GCSE. This also means helping pupils to see why history matters. Recent research has shown that the majority of pupils like history but do not understand why they study it. Bringing in recurring themes in history, focusing on individual stories, adding a personal/local element to history and so forth can help pupils engage with the past, not purely out of interest but because it really matters.
Fighting your corner
A recent survey by the Historical Association has shown there is a statistically significant relationship between time allocated to history at KS3 and GCSE uptake. This is true both in terms of actual time allocation and whether there has been a recent decline in the amount of time allocated to history. In some ways this is understandable given the pressures on schools to improve results in other areas of the curriculum, but this is where SLT need to understand the contribution that history can make to education generally (need link to other briefing pack but is there too much overlap between these?), and if the school is struggling to improve pupils' literacy skills or their ability to think critically, taking time away from history is not going to help.
"