Teaching History 172: Cause and consequence
The HA's journal for secondary history teachers
Published: 23rd September 2018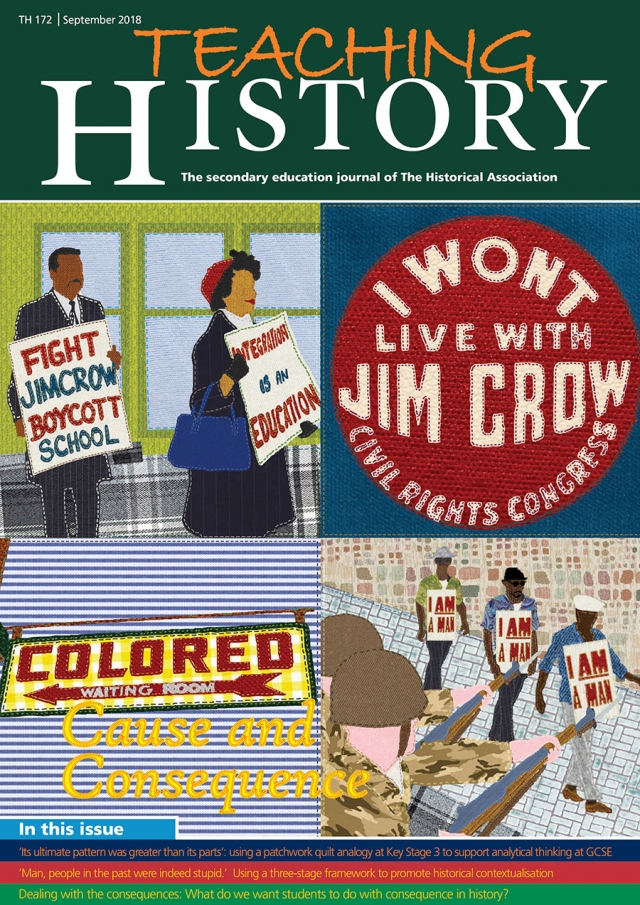 In this edition of Teaching History
Teaching History is the UK's leading professional journal for history teachers at secondary level.
It is free to HA Secondary Members.
02 Editorial (Read article)
03 HA Secondary News
04 HA Update
08 'Its ultimate pattern was greater than its parts': using a patchwork quilt analogy at Key Stage 3 to support analytical thinking at GCSE – Ed Durbin (Read article)
16 Triumphs Show: the history classroom lending library – Tim Jenner and Jessica Angell (Read article)
18 Couching counterfactuals in knowledge when explaining the Salem witch trials with Year 13 – James Edward Carroll (Read article)
30 'Man, people in the past were indeed stupid': Using a three-stage framework to promote historical contextualisation – Tim Huijgen and Paul Holthuis (Read article)
40 Dealing with the consequences: What do we want students to do with consequence in history? – Molly-Ann Navey (Read article)
50 Polychronicon: Health, illness and medicine in the Middle Ages – Catherine Rider (Read article)
52 The devil is the detail: are we teaching history the wrong way around? – Hugh Richards (Read article)
63 New, Novice Or Nervous? Curriculum planning (Read article)
64 From flight paths to spiders' webs: developing a progression model for Key Stage 3 – Rachael Cook (Read article)
72 Move Me On: not just relying on the textbook for subject knowledge (Read article)
76 Mummy, Mummy...
Regular features
Teaching History includes a number of regular features for history teachers including New, Novice or Nervous?, Polychronicon, Cunning Plan and Move Me On. You can access past editions of these here.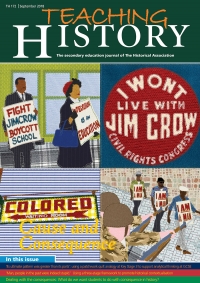 Buy a hard copy of this resource:
Non-member price: £28.00
HA Members can purchase this item for £8.00:
Sign in to pay the discounted price or Join the HA