By Edward Towne, published 30th July 2014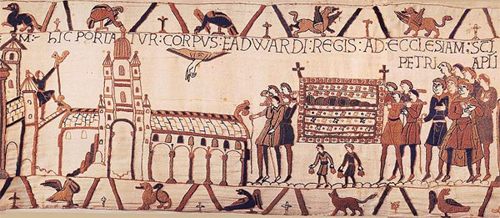 Bayeux, 23 kilometres west of Caen, was the first French town to be liberated in 1944 - on 7 June in fact, the day after the landings. Yet its origins go much further back than that: its first bishop was consecrated in the fourth century. It became part of Normandy in 924, following Duke Rollo's marriage to the daughter of the city's governor.
In 905 their son William Longsword was born, a direct ancestor of the Conqueror, whose English guest Harold Godwinson famously swore the Oath of Bayeux, following his rescue from Count Guy of Ponthieu. The oath apparently committed Harold to uphold William's claim to the English throne on the death of the childless Edward the Confessor.
Edward duly died on 5 January 1066, and Harold made his own bid for the throne. Determined to challenge Harold, William set sail from Dives-sur-Mer on 27 September 1066, landing at Pevensey the following day, and killing Harold at Hastings on 14 October. These events are of course recorded in the Bayeux Tapestry, housed in a special building.
The tapestry...