The London Charterhouse
Article
By Stephen Green, published 29th March 2011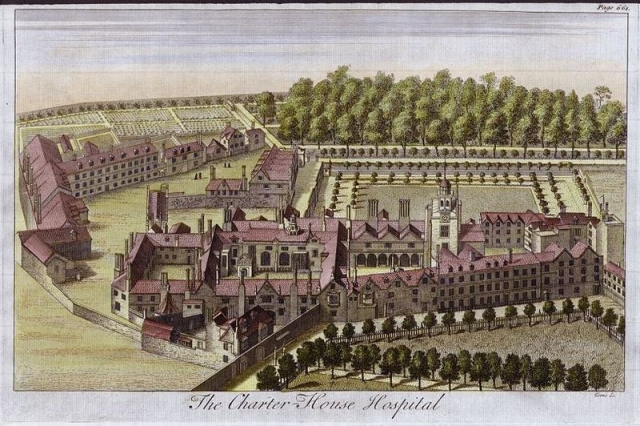 Four hundred years ago, in 1611, Thomas Sutton was reputed to be the wealthiest commoner in England but he was nearing the end of his life. He had been a financier and he was formerly the Master of Ordnance in the Northern Parts. He decided to take up good works and to found a school and an alms house. Originally he intended to do this at the Essex village of Little Hallingbury.
At the last minute, however, the site of a former great religious house in central London seemed a better option. This was the Charterhouse in Clerkenwell. There remains a link between Little Hallingbury and Sutton's foundation. The churchyard at the former place still contains the burial ground of the latter day brothers of Charterhouse.
Thomas Sutton acquired an institution which already had a long history. St Bruno had founded the Carthusian order in 1084 at La Grande Chartreuse, near Grenoble. In mediaeval England there were nine Charterhouses in addition to a short lived one at Hatherop in Gloucestershire.1 It was an interesting experience in 2009 to visit the sites of all of them. In addition there was one Scottish Charterhouse at Perth.
The most famous Carthusian in England was St Hugh of Lincoln. The chapel which he built for the lay brothers at Witham Friary, near Frome, survives to this day and is now the parish church. The London Charterhouse owes its origins to Sir William de Mauny who was one of the original Knights of the Garter. In 1349 he founded an oratory to pray for the thousands of victims of the Black Death who were buried in Clerkenwell. In 1371, after many difficulties, this was enlarged to form a proper Charterhouse...