By Mel Jones, published 9th November 2018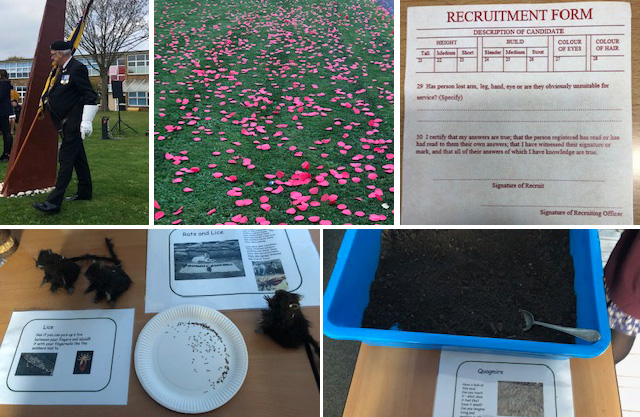 As we approach Remembrance Day and of course the 100th anniversary of the end of the First World War, schools across the country have been carrying out their own acts of remembrance in the form of special services, memorials, trips and drop down days among many other activities. Social media and school websites have been demonstrating some of the very many remembrance-focused activities taking place.
We were privileged to be invited to Bradfields Academy in Kent to take part in their remembrance activities. Bradfields Academy provides specialist SEND education for children with complex learning disabilities and difficulties including speech, language, emotional, sensory, physical and autistic spectrum disabilities. The children were taking part in a whole school drop down day which included poetry and art activities and, in the humanities, a very special "walk through" activity. Children circulated around different rooms set up as stages in the experience of a First World War soldier. In the first conscription office they were invited by teachers in role to enlist with a short accompanying written activity. In the next, they underwent their training in preparation to be sent to the trenches. In the third room, they were treated to some of the sights, objects and smells of the trenches. Finally, pupils went over the top in a light and sound sensory experience.
In the midst of activities was a remembrance service. Guests included John Caruana of the Medway Interfaith Action Group who spoke movingly about the experiences of troops of different faiths who fought and fell and the importance of mutual respect and peace. Pupils read poems, sang and completed a 2 minute silence. Petal guns were let off, strewing the area with petals.
We'd like to thank the staff and pupils at Bradfields for the care, thought and preparation that has gone in to their remembrance activities and for welcoming us to take part. If your school has carried out any special activities to mark the 100th anniversary of the end of the First World War, why not let us know, and even better send us some photos to include in a gallery. You can send photos and information to Mel Jones on melanie.jones@history.org.uk